Year 1 - Topaz
WEEK BEGINNING 06.07.2020
Another week has passed – how time flies! We hope that you have all kept yourselves busy and safe. If you are still staying at home, please try to do as much of the home learning ideas as possible. It is important that you spend some time learning every day. That is why we are giving you more and more choice so hopefully there is something there for everyone!
This coming week we would like you to continue with the "Money Sense" topic. It is good to hear about the learning that you have been doing at home and at school. It looks like we have some entrepreneurs in the making! The challenges are linked to finding out where money has come from, how it is made along with many other exciting things. We hope you enjoy the tasks. Remember to let us know what learning you have been doing via Purple Mash.
Keep practising your basic skills daily to keep those brains sharp! The ideas below will help you with this. A daily visit to the Oak Academy or the BBC Home learning website is also recommended. Have a good week year 1!
Every day, you can:
Read something for pleasure.

Write something interesting.

Do some

exercise.

Have a conversation with someone.

Practi

s

e writing basic letters and focus on

starting and finishing in the correct place

:

K,L,M,N,O,P,Q,R,S,T
Your tasks for this week:
When using the internet

,

remember how to stay safe! If you see anything that you do not like, share with an adult.
HANDWRITING
For extra

handwriting, practise

the following

words:

here, there, where, their, because, why, does,

oh, no and go.

Remember

to form your letters correctly!

Challenge yourself to write the words

as part of

a sentence.
PHONICS
Phonics play are offering free resources so please log on to keep practising your phonics:
https://new.phonicsplay.co.uk/
READING
P

lease

continue to read fiction or non-fiction books daily to an adult, brother or sister. Tell them about what has happened in the story or something you have learnt so far. Remember if it is fiction, to add detail about the characters and setting. Can you

complete a book review to explain wh

at

you liked or disliked the

book?

Try to keep a log of

all

your reading to share with us when you come back to school.

The more reading you do the better!
WRITING
Look at Oak National

Academy year

1

English lessons

:

T

here are 5 lessons for you to complete this week – one

a day!

This week they are based on poetry and you will be writing a poem about a magic wand.

In school we are looking at a poem about a magic wand
Once I had a magic wand
Of it I was very fond
First I saw a wooden log
BOOM it turned it into a frog
Next I saw some smelly muck
WHOOSH it turned into a duck
Next I saw a rubbish heap
WHAM it turned into a sheep
Next I saw a hard crossword
Bam it turned into a bird
Once I had a magic wand
Of it I was very fond
Make yourself a magic wand.

Can you read the poem? Now think

about which

words would you wave your magic wand on

.

Can you think of ways to perform your poem?

Read the poem and perform to your adult. This is a rhyming poem

- can

you identi

fy all the words that rhyme? Can you think of other words to rhyme with them?

Read the poem and perform

to your adult

again

. Today you will be identifying the

onomatopoeia words. Remember that

onomatopoeia

words describe the sound

that something or someone makes

(e.g. Boom!)

. Can you identify the onomatopoeia words in the poem? Now think of some other

onomatopoeia words to describe the sound from the magic wand and write them down.

Read and perform your poem to your adult

again. Today

you will be planning your own magic wand poem. You need to change the noun (remember the object), the onomatopoeia word

and the animal. Remember the noun and animal must rhyme

. I

t might be easier to start with the animal and then the noun. You can also draw a picture of the animal and the noun.
| | | |
| --- | --- | --- |
| Noun (object) | Onomatopoeia | Animal |
| Fog | Pow | Dog |
| | | |
| | | |
| | | |
Today you will need to use you

r

plan to write your own poem.

Use the

poem

above

and change the noun (object), onomatopoeia word and the animal.

e

.

g.

Once I had a magic wand
Of it I was very fond
First I saw a misty fog
Pow it turned it into a dog
SPELLING
P

ractise

writing

the months of the year

and learn how to spell them

using

the technique look, cover, write, check.

Remember to start each month with a capital letter!

You could also find other ways to practise your spellings, such as writing them out using fancy letters and

col

o

urs

.

Challenge –

Write the long date each day. For

example,

Monday 6

th

July 2020.

Practise your spellings

using the correct

er

,

ir

, ur sound to spell the following words: better, letter, lighter

, brighter, finger

,

birthday, dirt, skirt, shirt, dirty, nurse, turtle, burn,

hurt, fur and turn.

Challenge – How many silly sentences can you write using your spelling words?
MATHS
Look at Oak National Academy year 1 maths lessons

on money

and carry out one a day!

MONDAY:

https://classroom.thenational.academy/lessons/to-apply-knowledge-of-number-bonds-7de970

TUESDAY:

https://classroom.thenational.academy/lessons/to-add-two-digit-numbers-to-ones
If you are unable to access these lessons

, p

lease complete the following lesson activities

:
Write all the key vocabulary for +

and -

on a spider diagram.

L

o

o

k at the picture below

and discuss with an adult

and

answer the questions.
Do you know who the characters are? What do you think they are doing? How many golden blocks do you think there are? Write an estimation.
Now, think about how could you work out the amount? What else can you see?
Use the part-whole model (picture below) to help you solve some additions:2

+3, 4+1, 5+4, 7+5,

10+9, 12+6, 13+5.

Challenge

:

21+9, 10+30, 20+10, 16+10. Now ask someone in your house to give you two numbers to add

together

.

Usin

g the part-whole model

(picture below)

to find different ways of making these totals:

4

, 8

,

9

, 12

and

17

. Try and find as

many different ways

as you can.

Challenge

: C

an you think of any doubles?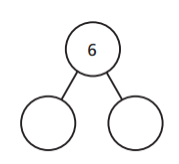 Use the part-whole model to

make 5, 10 and 20.
Challenge: How many ways can you make 50?
Ask your parent/carer to look through the BBC

Bitesize

lessons to see if there are any lessons that would help you: 
https://www.bbc.co.uk/bitesize/dailylessons
And remember to carry out as many activities as you can from the

'Comings and Goings'

topic

plan

.
OTHER USEFUL WEBSITES:
https://www.purplemash.com/login/
https://central.espresso.co.uk/espresso/primary_uk/home/index.html
You can use the school username and password given in your education packs.
https://www.topmarks.co.uk/maths-games/5-7-years