Coral Class Blog
The members of staff in Coral class include:
Miss Smith, Mrs Goodgame and Miss Holdsworth
Dates and reminders:
Fridays are our P.E days where we attend swimming lessons. Children must ensure that they have a bag containing a swimming costume/trunks, swimming hat and a towel. Please also ensure a full P.E kit is in school at all times. No jewelry is allowed to be worn.
03.03.20- Parent consultations
04.03.20- Parent consultations
05.03.20- World Book Day (dress up)
TBC - Board game week
W.B. 30.03.20 - British Values Week
Things to help with learning
We expect the children to be reading as much as possible. Reading is crucial for huge aspects of learning and really helps develop children's creativity and vocabulary in writing. We are encouraging the children to record when and what they have read in their reading journals.
Times Table Rockstars is a great website to develop the children's times table recall. In year 4, children are expected to know times table facts 1-12.
Practise spellings each week. We focus on a range of spelling patterns as well as they YR3/4 spellings. We have been monitoring these each half term. Document attached.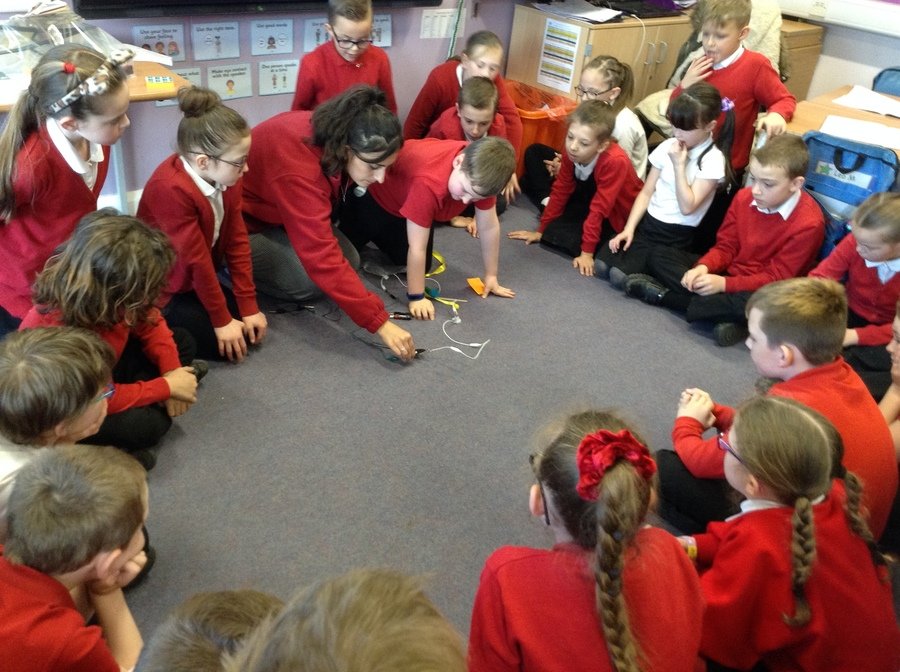 Welcome back to Spring Term 2. What an exciting term it is going to be! It is sure to be filled with lots of fantastic activities linked to our topic 'Ministry of Magic'. I can't believe we are now over half way through the year! The children are continuing to make excellent progress so I look forward to seeing that continue!
Planned curriculum this term
School trip - Harry Potter Studios
English
For World Book day we are studying the text The World's Worst Teachers which I know the children are going to love. We are going to be using this to create our own teacher with a focus on descriptive writing.
We also continuing with our book Harry Potter: The chamber of secrets to help develop crucial reading skills including: prediction, inference and retrieval.
Maths
In maths we will be focused in particular at recalling the 12 times tables related facts.
We will be focusing on fractions and decimals. In particular, looking at equivalence, finding a fraction of a number, amounts and shapes. We will also be learning about the value of digits when there is a decimal.
We will also be looking at different measurements which will include time, mass, length and money. We will be converting different units of measurement and solving problems.
Another topic will be shape. We will be identifying the names and properties of different quadrilaterals, triangles, angles and lines.
Science
Our topic this term for science is 'Working Scientifically'. We will be planning, conducting and evaluating a range of different science investigations. We will spend some time looking at fair testing and how to ensure an investigation is fair.
DT
This term will involve a great deal of designing. We will have a themed week where we design and create board games. We will be attaching different materials in a range of ways including sewing.
We will also be making pizzas towards the end of the term.
Geography
We will be looking at the 8 different compass points and using them to give directions around Hogwarts. Also, we will be looking at where we would build a school using different land features to justify. Finally, we will be looking at maps with a 4 grid reference.
French
Our French topic for this half term 'My Town'. We will be focusing on learning a range of vocabulary and applying it.
Music
The piece of music we will be looking at this half term is 'Lean On Me' by Bill Withers. We will be learning to sing the song, as well as play chime bars to the music.
Computing
We will be learning how to search effectively online, followed by creating animations.
RE
In RE this half term, we are going to be learning about Judaism. We will be looking at what the Ten Commandments are and the significance of them.
Home Work and Spellings
Homework is set every Friday and is due on a Thursday.
Spellings are set each Friday and are tested Friday mornings.
06.03.20
| | |
| --- | --- |
| BLUE | PINK |
| Words with a 'soft c' spelt with 'ce' | The sound /ee/ spelt with '-ey' |
| centre | key |
| century | donkey |
| certain | monkey |
| recent | chimney |
| experience | valley |
| sentence | trolley |
| notice | turkey |
| celebrate | hockey |
| ceremony | parsley |
| certificate | journey |