Homework
MyMaths homework -
FRACTIONS- More fractions and fractions on a number line.
Purple Mash homework this week.... Ancient Egypt....You can choose which Ancient Egypt homework to complete.
GIGLETS
Children have been allocated a book to read. Log-ins are the same as MyMaths.
You have to go through Google Chrome to access this.
Spellings:
The children will be given 5 spellings every Friday. The children will be tested the following Friday.
New spellings......
group, guard, guide, heard, heart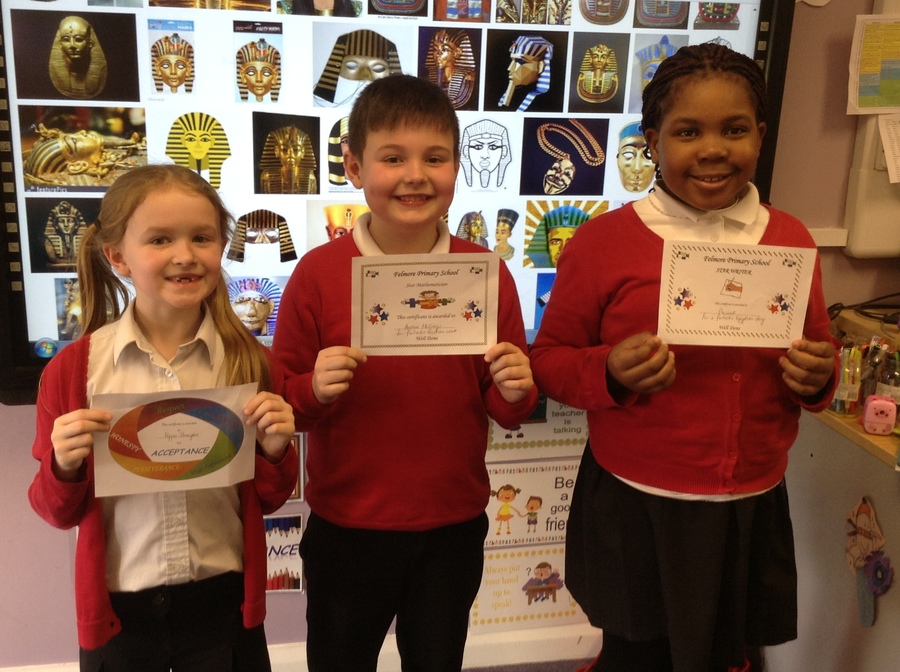 PE is on Thursdays- please ensure full indoor and outdoor kit is in school. Earrings need to be removed and hair tied back.
Friday 16th March 2018
Welcome to Turquoise Blog
Another fantastic week in Turquoise!
In English the children have been learning about features of story writing. They have used personification, alliteration, double adjectives, similes and embedded clauses.
We have a list of recommended reads for Year 3...........
Any Michael Morpurgo and Roald Dahl, Enid Blyton- Secret Seven and Famous Five series, Jeremy Strong- The Hundred Mile an Hour Dog, Lucy Daniels- Animal Ark series, Francesca Simon- Horrid Henry series, E.B. White-Charlotte`s web, Jeff Brown-usmoFlat Stanley series, Raymond Briggs- Fungus the Bogeyman, Helen Cresswell- Mystery Winklesea, Lynne Reid Banks-The Indian in the Cupboard, Humphrey Carpenter- Mr Majeika, Phyllis Arkle-Railway Cat. HAPPY READING!
In Maths this week the children have been learning how to order fractions, place them on a number line and make fraction pairs. Next week we are adding fractions!
REMEMBER.........to practice times tables at home.
In RE the children have enjoyed learning about Buddhism. This week the children learned about special Buddhism symbols and their meanings.
In music, the children continue to learn the recorder. There are a few squeaks here and there but there is definite improvement!
Our new topic, Ancient Egypt has really captured the children`s imagination. They have generated some interesting questions and learned how to mummify a body!
The children really enjoyed Art. They designed their own Egyptian masks using pastels.
Also a big thank you to Mrs Skeggs who taught the children some Irish dancing.
Awards
Writer of the week - Precious, Mathematician- Archie and Core value acceptance for Poppie.
Well done to you all.
Have a lovely weekend. Happy St Patrick`s day tomorrow.
Mrs Kimberley